10/25/2023 / By News Editors
---
A man on Facebook shared the hilarious details of Dave Chappelle's show in Boston where he told off arrogant audience members who told him to "shut the F up" for criticizing Israel.
(Article by Chris Menahan republished from InformationLiberation.com)
Via Twitter: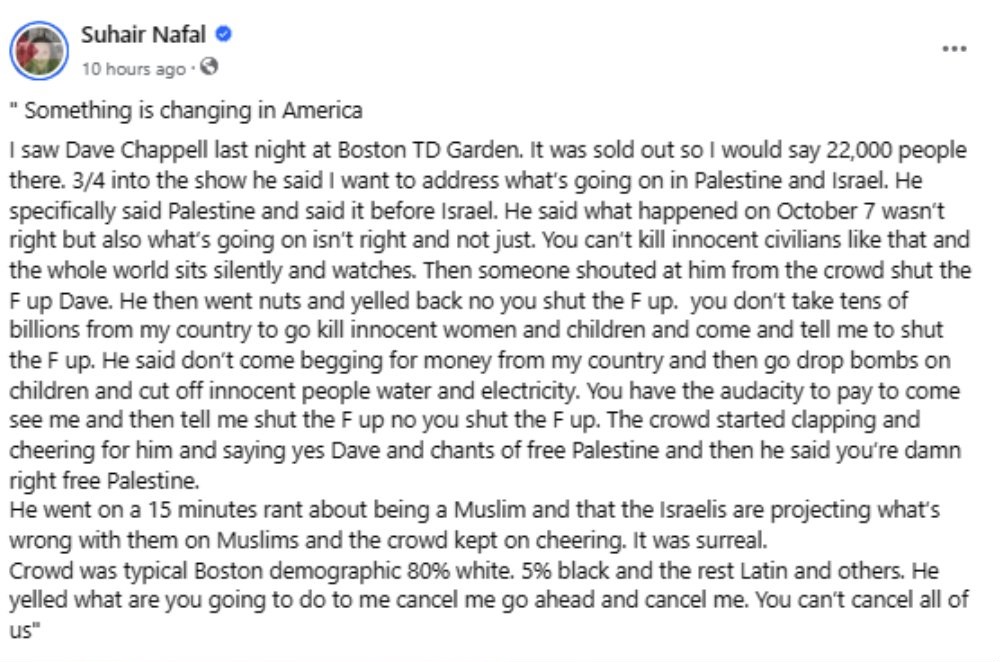 From Deadline, "Dave Chappelle's Words On Israel-Gaza Conflict Spark Cheers, Jeers And Walkouts In Audience":
Dave Chappelle's stand-up routine triggered a walk-out by some audience members on Thursday evening, after he spoke out about the Israel-Gaza conflict.

The Wall Street Journal reports that the comedian aired his views during his performance at the TD Garden Arena in Boston, during which he condemned Hamas attacks of October 7th, and also slammed Israel's bombing of Gaza.

The paper reports that Chappelle also said the US was guilty of aiding the slaughter of innocent civilians, and said war crimes were occurring. Chappelle went on to criticise the Israeli government for cutting off supplies to Gaza's population, and blocking humanitarian aid. He concluded by saying that two wrongs don't make a right.

Bizarrely, the Daily Mail reports that Chappelle had asserted, through a spokesperson, that he was not in Boston on Thursday evening, but other spectators have come forward with reports of what he said.
That's not bizarre, it's funny.
The WSJ reports that, while one audience member told Chappelle to shut up, others cheered and shouted "Free Palestine." Some audience members walked out and later posted on social media, saying how Chappelle's words had made them feel unsafe.

One wrote:

"The audience was cheering Chappelle on during his tirade. I was sick. We were sick. I turned to my friends and wife and said I think it is time to go.

"We walked out and met up with many other Jews leaving the show. Never in my life have I felt so unsafe and so fearful of what I was witnessing."
When Chappelle was bashing whitey it was all fun and games but now it's a terroristic threat?
As a reminder, Chappelle delivered an edgy monologue on SNL last year defending Kyrie Irving and Kanye "Ye" West after the ADL organized to have them both canceled.
ADL CEO Jonathan Greenblatt whined about Chappelle's monologue at the time and suggested he was looking to cancel him next after Ye and Irving.
Read more at: InformationLiberation.com
Submit a correction >>